The Film/Media Studies equipment collection contains a variety of prime and zoom lenses for a wide range of filming situations.  Be sure that the lens you request is compatible with the camera you plan on using; you may need an adapter.
Micro 4/3 Lenses
Micro 4/3 mount lenses can be used natively on the Panasonic GH3, Panasonic AF100, and BlackMagic Pocket Cinema Camera. Because of their compact design, they cannot be adapted for use with other lens systems.  One important consideration of the Micro 4/3 system is crop factor – because the sensor is smaller, the zoom is effectively doubled when compared to a full-frame camera.  This means that a 12-35mm lens on a Micro 4/3 camera has the same field of view as a 24-70mm lens on a full-frame camera.
Panasonic 12-35mm f/2.8 and Olympus 12-40mm f/2.8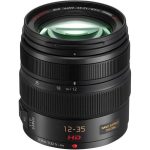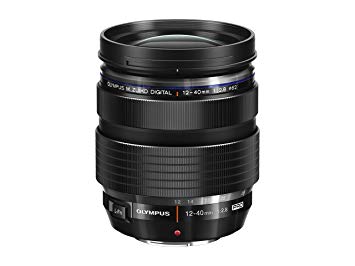 These two lenses have very similar specifications, with excellent image quality and relatively good low-light performance. Their zoom range isn't especially long, but they are great general purpose lenses. The Panasonic features image stabilization, which is useful for capturing smooth footage. The Olympus has a unique focus ring, which allows for very precise manual focusing.
Panasonic 12-60mm f/3.5-5.6 and Panasonic Leica 12-60mm f/2.8-4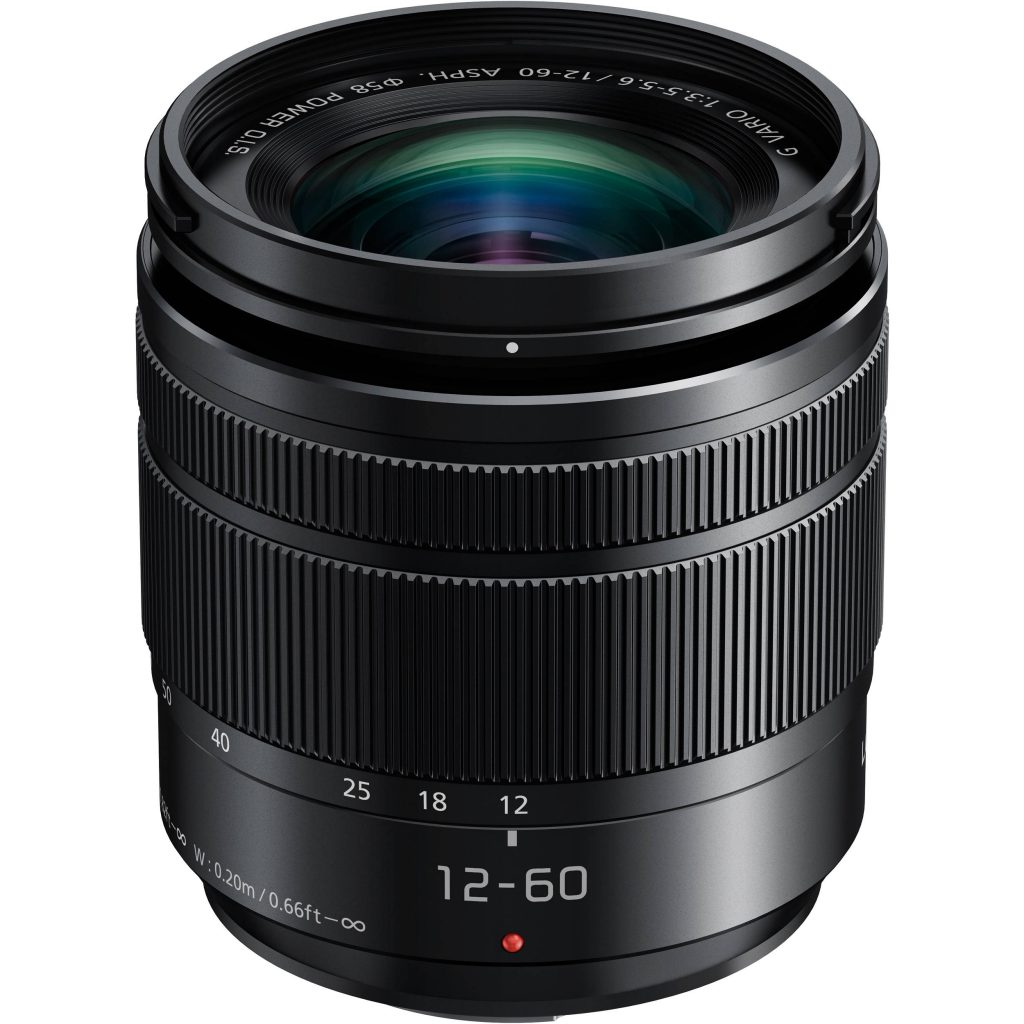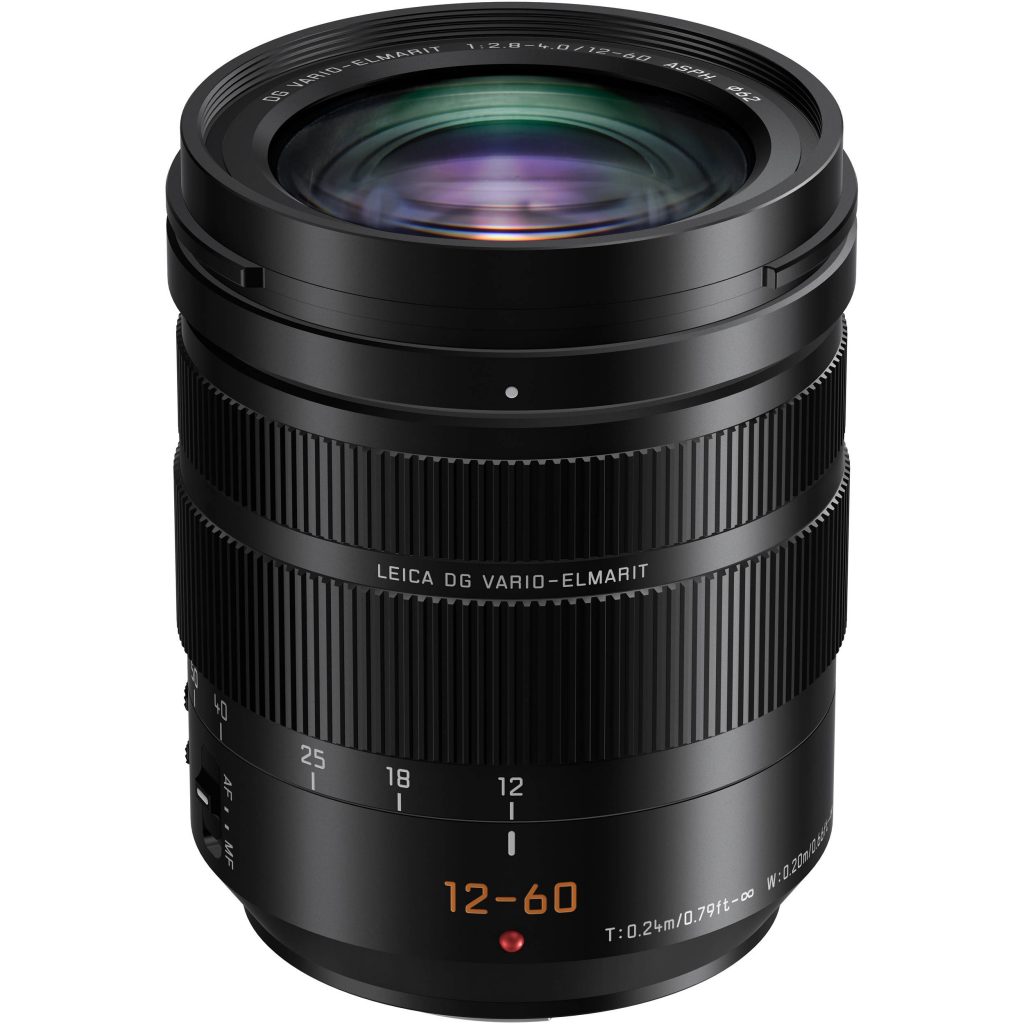 These lenses are also very similar: both are variable aperture zooms with good range. The f/3.5-5.6 is lightweight and compact, while the Leica f/2.8-4 offers slightly superior image quality and low light capabilities, but at the cost of additional size and weight. Both are good general purpose lenses.
Panasonic 14-140mm f/4-5.8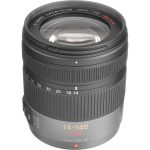 The Panasonic 14-140mm has a much longer range than other lenses in the collection. It's a good choice if you have an unpredictable filming situation and want to be able to zoom in or out quickly. Because this lens has a slower variable aperture, its low-light performance is not as good as the other Micro 4/3 options.
Micro 4/3 Primes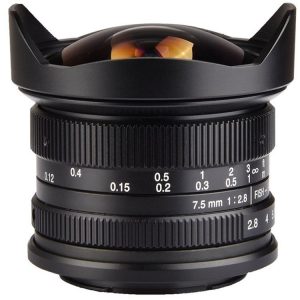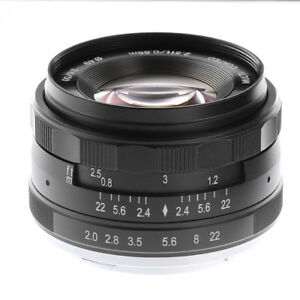 In addition to the zoom lenses listed above, the lens collection includes three very compact prime lenses: a 7.5mm f/2.8, a 25mm f/1.8, and a 50mm f/2. These lenses are fully manual, so focus and aperture must be controlled by hand. Their large maximum apertures make them good choices for situations with low light and their small size is convenient. While not as versatile as the zoom lenses, each would be a great option as a second lens on a shoot.
Nikon F Mount Lenses
Nikon F Mount lenses can be adapted for use on Micro 4/3, Sony E, and other camera systems. Because these lenses have fixed focal lengths, they are less versatile than zooms, but tend to perform better optically. All of the Nikon mount lenses in our collection are fully manual.
Rokinon 8mm f/3.8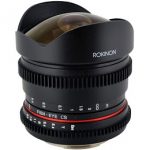 This extreme wide angle prime lens distorts around the edges, giving what is known as a "fisheye" effect.
Zeiss Primes
All of the Zeiss lenses in the Film/Media Studies collection are extremely sharp with excellent image quality. These lenses are precision instruments and should be handled with the utmost care. The following focal lengths/apertures are available: 18mm f/3.5; 28mm f/2; 50mm f/1.4; 85mm f/1.4; and 100mm f/2 macro. The 18mm and 28mm can be used for mid-to-wide angle shots, the 50mm and 85mm are ideal for interviews and shots with a shallow depth-of-field, and the 100mm macro can be used for extreme close-ups.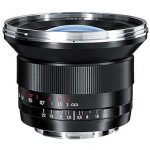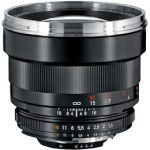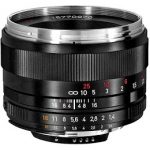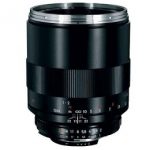 Sony E Mount Lenses
E Mount lenses can only be used with compatible Sony cameras, such as the FS5.
Sony 18-105mm f/4
The Sony 18-105mm zoom has a versatile range and a constant aperture, making it a good all-around option for the FS5. Because the aperture only opens to f/4, however, it is not the best choice for low-light filming.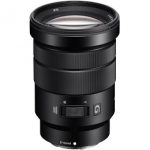 Lens Adapters
The Nikon F Mount lenses in the Film/Media Studies collection can be adapted for use with Micro 4/3 or Sony E systems using adapters.
Metabones Nikon F to Micro 4/3 Speedbooster
The Metabones Speedbooster adapter contains an extra optical element, which increases the lens's field of view (making the lens appear wider) and light gathering ability (making the lens appear brighter). Because this adapter contains an exposed glass element, it should be handled with care and end caps should be put in place when it is not in use.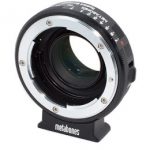 Passive Adapters
Unlike the Metabones Speedbooster, these lens adapters do not contain optical elements and do not increase the field of view or light gathering ability of the lenses they are used with. These adapters can be used to adapt Nikon F mount lenses to Micro 4/3 or Sony E systems.