Capturing good audio is just as important as getting good-looking footage. Fortunately, the Film/Media Studies equipment collection has microphones and recorders to cover just about any audio-related scenario.
External Recorders
Not every camera is well-suited for recording audio. In those cases, it's best to record sound separately using an external audio recorder.
Tascam DR-40
The Tascam DR-40 is a four channel audio recorder, which means that it can record audio from up to four different sources simultaneously. On the base of the unit are two combination ports that will accept either XLR (with optional phantom power) or 1/4″ inputs. When using a source with a 3.5mm plug, an adapter can be used. On the top of the unit are two directional microphones that can be angled in or out as needed. The DR-40 is the ideal recorder if you want to record using an XLR microphone, such as a shotgun microphone on a boom pole, with a camera that lacks XLR inputs, such as the Panasonic GH3 or BlackMagic Pocket Cinema Camera. The built-in microphones on the DR-40 also sound good, so it can be used as a standalone recorder for things like recording voice over.
Additional Information
Recorder manual, Recorder guide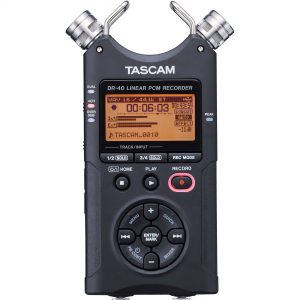 Sony PCM-M10
The Sony PCM-M10 is a compact audio recorder with two built-in microphones and a 3.5mm stereo input. Because it lacks XLR inputs, the PCM-M10 requires an adapter for using XLR inputs, such as shotgun microphones — and phantom power is not an option. The unit's small size and high quality built-in microphones make it a good choice as a standalone recorder or as a complement to cameras with limited audio recording capabilities, such as the DJI Osmo.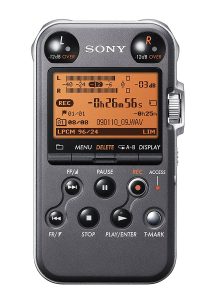 Shotgun Microphones
Shotgun microphones are highly directional microphones that are often used on a boom pole to record dialog. All of the shotgun microphones in the Film/Media Studies collection use XLR connections and require either phantom power or battery power. If you are recording outdoors or in an area with wind noise, a fuzzy wind muff (known as a "dead cat") can be placed over the microphone.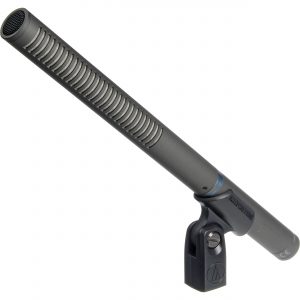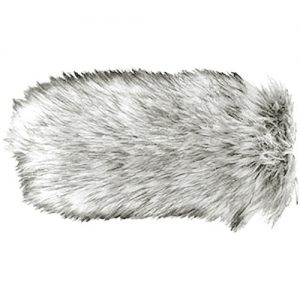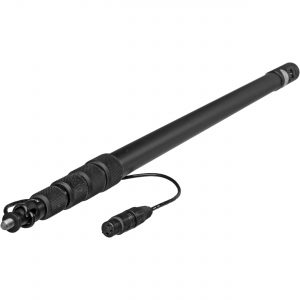 Wireless Lavalier Microphones
Also called "lapel" microphones, lavaliers are clipped or taped directly onto the individual being recorded. These microphones have a limited range of sensitivity and should be affixed on the chest, below the subject's mouth. Wireless lavalier kits consist of a microphone, a transmitter, and a receiver, which feeds into a camera or audio recorder. The receiver can be used with different cables to feed either XLR or 3.5mm inputs. Wireless lavalier microphones are a good option when using a shotgun microphone is impractical. Since the microphone is attached directly to the subject, care should be taken to avoid unwanted rustling sounds from clothing.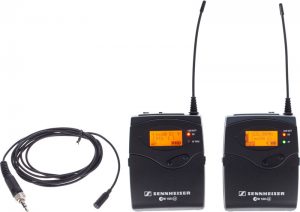 On-Camera Microphones
Adding an on-camera microphone is a quick and easy way to greatly improve the quality of the audio you capture. The RODE VideoMicro is a small directional microphone that can be mounted on the hotshoe of cameras like the Panasonic GH3 and Sony RX10 II. While you will usually get better results from a lavalier or large shotgun microphone, small microphones like the VideoMicro are helpful in situations where using larger microphones is difficult or impractical, such as documentary production.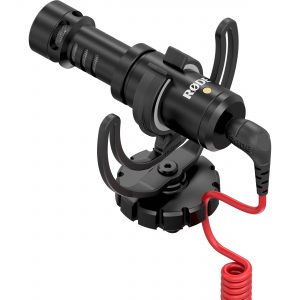 Audio Adapters
The Film/Media Studies equipment collection contains a number of audio adapters. Small adapters such as XLR to 3.5mm and 3.5mm to 1/4″ converters can be used when the camera or recorder being used lacks the appropriate input. Note that shotgun microphones using an XLR to 3.5mm converter will need to be battery-powered, since 3.5mm ports do not supply phantom power. The Sony RX10 II and FS5 can use a special adapter called the XLR-K2M, which adds two phantom-powered XLR inputs with independent level control. The XLR-K2M attaches to the electronic hotshoe of these cameras – it cannot be used on cameras that do not have this feature.